Anesthesia Circuit Dryer Adapter
Attach to a patient warming hose and insert 1, 2 or 3 anesthesia circuits to dry them.
Cleaning anesthesia circuits, with their double walled design, is challenging. Getting the cleaning solution or water out of them is sometimes even more difficult. With this adapter, your patient warmer can be utilized to dry these circuits quickly! Plugging the patient side of the circuit into the adapter allows the warm air to pass through both the inspiration and expiration channels inside the circuit.
This innovative design includes vent holes around the perimeter to assure proper levels of back pressure are not exceeded. The effective cross sectional area with the anesthesia circuits attached is equivalent to the area of the patient warming hose.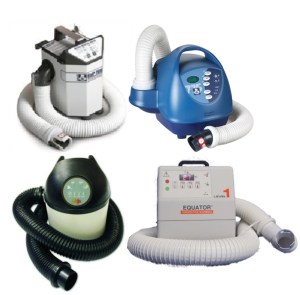 Fitment:
Compatible with all four veterinary patient warming units shown.
Simply press the hoses into the adapter for a snug fit. A simple twist and pull motion removes them when done.
We have recently added models to fit the newer Model 675 Bair Huggers and the VetBedJets.  The Coviden patient warmers are not yet supported. (maybe by April - send an email if you need this version bret@a24158.p3876.c1.store.godaddywp.com)
Additional information
| | |
| --- | --- |
| Color | Black, Grape, Green, Neon Yellow, Red, Royal Blue |
| Choose Patient Warmer | Bair Hugger, Level I Equator, Desert Breeze, Bair Hugger Model 675, VetBedJet |